Oh! The Places We'll Go…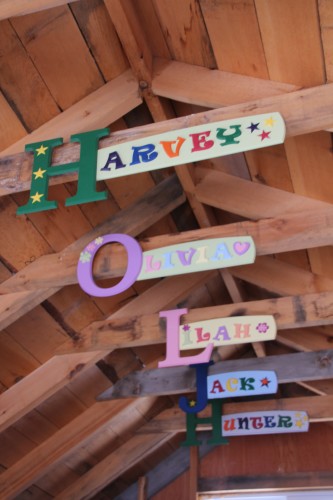 Kid, You'll Move Mountains!
Be your name Buxbaum or Bixby or Bray
or Mordecai Ali Van Allen O'Shea,
you're off to Great Places!
Today is your day!
Your mountain is waiting.
So… get on your way!
~from Dr Suess, Oh, The Places You'll Go!
Our signs are displayed in interesting places and used in novel ways. Here is a list of just some of the examples we know of…
On the rafters of Grandma's rustic cabin (with two more names are on the way!)
To announce the entrance to "Hunter's Hens" (5-year-old Hunter's chicken coop)
To identify school classrooms and hallways
As wedding guest books (MR & MRS letters)
At wedding candy tables
For baby shower gifts
On bedroom doors (and lots of other doors, for that matter)
Above cribs
Under Christmas trees
As room decor (Live, Love, Laugh… Peace, Love, Joy… Family & Friends…)
Over pet beds and food bowls
Be sure to send us a picture of where your LooseLetters.ca signs are displayed!